Program Fee
$1,950.00
Certificate
​A printed certificate will be awarded and mailed upon successful completion of this program.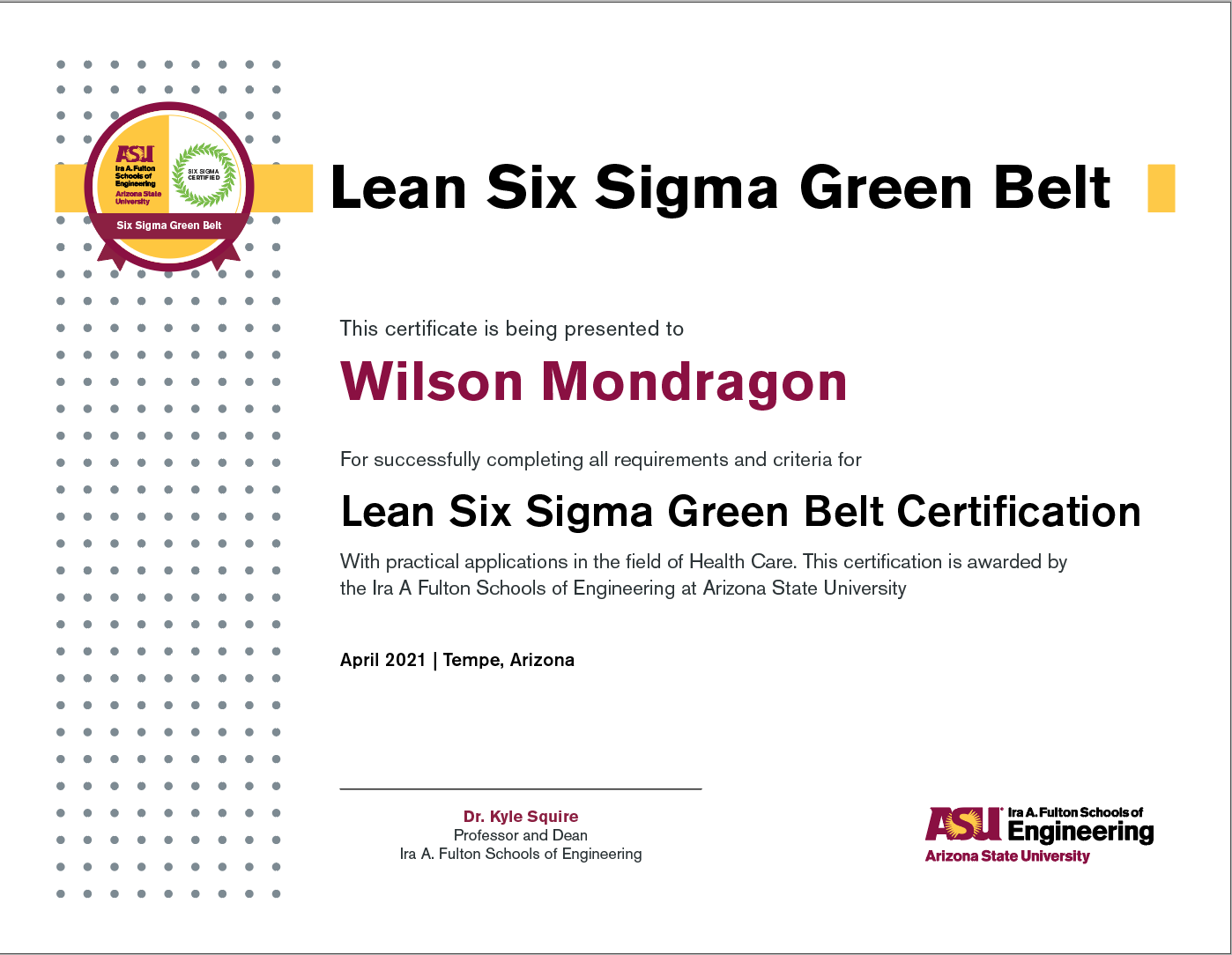 ​
Overview
The Online Lean Six Sigma Green Belt (LSSGB) Certification program accredited by the Ira A. Fulton Schools of Engineering at Arizona State University (ASU) has been designed to cater to learners across three industry areas: Manufacturing, Healthcare and Service / Transactional. Participants enrolling in the program will select an industry focus to learn about sector-specific tools, case studies and applications of lean and six sigma.
---
---
Program Topics
The Lean Six Sigma Green Belt program is a combination of online coursework and an applied project, covering the following topics:
Choosing and managing Lean Six Sigma projects. 
Process and Value Stream Mapping (VSM), and process flow optimization. 
Choosing metrics, establishing a measurement system, and collecting data. 
Quantifying the performance gap between current and future state process analysis.
Identify decision-making data in processes through the application of data analysis tools.
Normal distribution, process capability analysis, and measurement systems analysis
Statistics for Six Sigma including relationships between variables, correlation, and regression analysis. 
Basic Design of Experiments and Design for Six Sigma.
Lean essentials and the removal of waste from a process. 
Implementation of Lean Six Sigma tools to close performance gaps, reduce process variation, and center performance on a target value.
Application of basic statistical process control methods to monitor performance.
---
Earning a Certificate
Participants are required to complete ten (10) quizzes and one final exam by the course instruction end date. There is one quiz for each topic week within this program. Each quiz contains multiple choice and true/false questions. A combined average of 70% for the quizzes and a score of 70% or higher on the final exam is required to pass the course. 
Participants are also required to submit a three to six-page Green Belt project report to their course facilitator within 60 days after completing the instruction and quizzes. The project should demonstrate that the participant is able to apply the DMAIC methodology to improve a process in the workplace.
---
Who Should Enroll
This program is for professionals involved in improving processes and operational performance within a specific work area, or as a team member contributing to larger-scale methods to monitor performance. 
---
Pre-requisites
Working knowledge of statistics is recommended, such as a college-level statistics course, other statistics training or work-related experience.
---
Program Delivery Modalities
---
Contact Information
ASU Employees, members of the United States Military and companies registering 5 or more participants may be eligible for a special rate.
For more information on professional programs or certifications contact:
Professional & Executive Education
exec-fseonline@asu.edu
(480) 727-4534
or fill out our "Request for Information" form at the bottom of the page. 
---
Request Information