First IoT Expert Curiosity University T-Mobile Cohort
CES Las Vegas 2020 saw the introduction of a large number of smart products for home, personal, commercial and industrial use. Many technologies for wireless communications, IoT, UAVs and robotics, home automation, and for electric and autonomous vehicles were introduced as well as for digital consumer electronic products.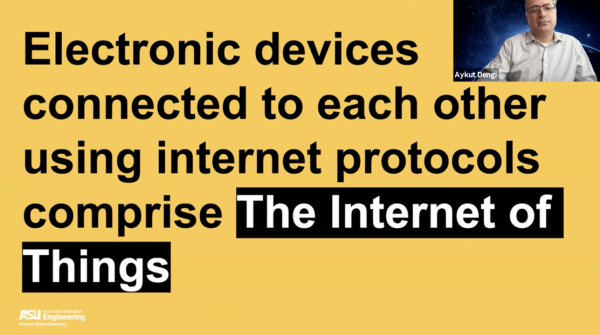 During this event, members of the leadership team from Sprint met with ASU representatives to further discuss the key pillars of the Sprint-ASU Collaboration plan that was launched in October 2019 during the MWC Los Angeles event which included a multiyear joint effort that would emphasize the use of fast 5G service and IoT applications at ASU (i.e., campus safety), to launch Curiosity University for Sprint employees and foster the new generation of IoT experts, engage in joint R&D activities to develop applications that leverage 5G and IoT and to create an incubator at ASU's Novus Innovation Corridor which in turn will support Smart Region development in Arizona.
"This is just the beginning," said Grace O'Sullivan, Vice President of Corporate Engagement and Strategic Partnerships at ASU. "We have so many different and exciting work streams and opportunities to advance the T-Mobile and ASU partnership. We hope to be a resource and partner for participants of this program for the remainder of their careers."
Despite the challenges faced due to the COVID19 pandemic, Sprint and ASU teams worked closely to define the content and format of the IoT Expert program. What was once planned for in-person pivoted to virtual using the latest collaborative technologies available. At about the same time the merger between T-Mobile and Sprint was completed and leadership teams from both sides successfully continued the program development efforts for all pillars of the plan during the transition period, including Curiosity University. Pat Watkins, Vice President IoT Sales at T-Mobile noted, "the reality is we're going into a new world where everything is going to be connected. At T-Mobile, we're building a 5G network that's second to none, and with that it's going to be a true enabler of some of these applications within this program that are moving forward."
Conversations continued between leadership teams to support this program from T-Mobile and to accelerate development to ensure the first cohort was assembled and trained by the end of 2020. 
With all technical inputs from T-Mobile in response to the first draft of the IoT Expert program in hand, the Fulton Schools of Engineering Office of Global Outreach and Extended Education assembled a complementary group of faculty and industry experts coordinated by Dr. Aviral Shrivastava, to develop the material and experiences for the IoT Expert program. The program was divided into 6 modules delivered in two sessions per module, each consisting of 3-hour increments, for a total of 36 hours. In addition, the first session of each module would be delivered with the second session being delivered a week later to allow for students to ask questions and assimilate content, read assigned materials and complete quizzes and project activities. This format provided a fertile platform for questions and answers which were carefully captured with the intention of fueling innovation for future cohorts of this program from T-Mobile and many other companies in the IoT ecosystem.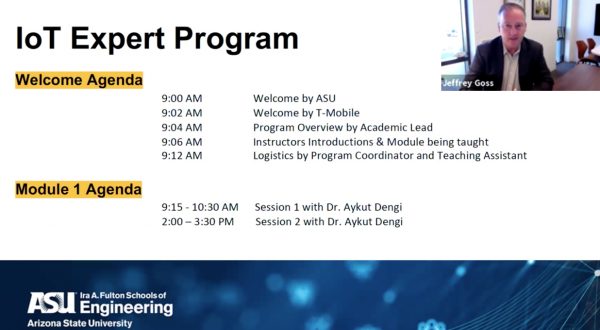 ​
This six-module seminar-style virtual experience IoT Expert Program was designed to build fundamental skills in IoT for sales and solutions engineers. The modules cover 1) IoT Vision, Business Models and Case Studies; 2) Devices, Control, ML and class hands-on project; 3) Communication Protocols; 4) Data Management; 5) Cloud and Edge Computing; and 6) IoT Security.
The first cohort included 35 participants from T-Mobile sales and solution engineers, holding roles as account executives, account directors, product managers, and solution support engineers, who were selected following an internal process that was completed in record time. A great deal of interest was expressed by T-Mobile employees and that excitement carried on to their participation during the course. 
The course was delivered in twelve days beginning on Tuesday, December 1, 2020, and ending on Wednesday, December 16, 2020, when the final three-hour module on IoT Security was delivered followed by the graduation ceremony.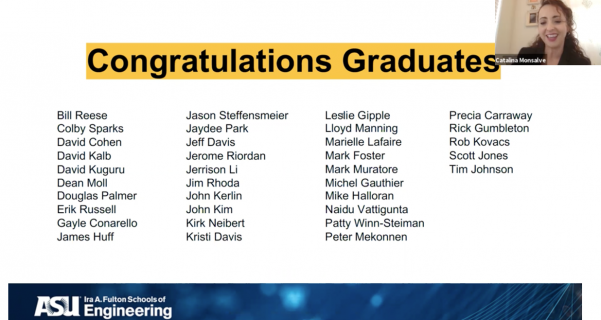 ​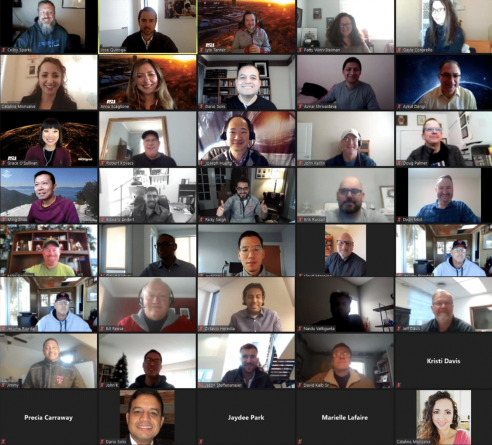 ​
Ricky Singh, Head of Products & Solutions as part of the IoT leadership team at Sprint commented about the partnership between ASU and T-Mobile & Spring saying, "I think the word partnership gets used pretty loosely at times, and this I believe was the true spirit of partnership." He went onto further illustrate, "this idea went from the back of a napkin to making an announcement at some of the mobile industry's largest venues. Now seeing the curriculum that we worked so hard with the ASU team and faculty to formulate go to being executed brings me immense joy." 
The team of instructors provided a powerhouse of expertise and experience in their respective areas, bringing unique points of view to each topic for participants to absorb.
The IoT Vision, Business Models and Case Studies module 1 was facilitated by Dr. Aykut Dengi, Co-founder and Co-CEO of RadiusAl Inc. He provided an understanding of the key business aspects of developing and deploying an IoT solution by exploring the business pull for IoT, the value of data, ROI and the customer readiness in terms of data and organizational maturity. He then concentrated in presenting ways to building IoT business cases, business contracts, the IoT ecosystem, financing and verticals. 
Dr. Aviral Shrivastava, is a Professor in the School of Computing Informatics and Decision Systems Engineering at the Arizona State University, where he has established and heads the "Make Programming Simple (MPS)" lab. He facilitated module 2 on Devices, Control and Machine Learning. During the presentation and discussion with participants, the different kinds of sensors and actuators, how they operate, the use of microcontrollers to access sensor data and control actuators, and the role of ML in IoT were covered. Dr. Shrivastava used Autonomous Vehicles as the application area in this module. Also, as part of this module, the class project was facilitated with the support of the teaching assistant Edward Andert. The desired outcome of the project was to build and test a Personal Forward Collision Warning Device using an Nvidia Jetson Nano developer kit. This device uses a camera and a convolutional neural network to detect when a driver is following a vehicle too closely.
Module 3 discussed the key topic of Machine to Machine Communication Protocols. Dr. Anna Scaglione, Professor in Electrical and Computer Engineering at ASU and Director of the Signal, Information, Networks and Energy Laboratory, presented the definition of communication standards in terms of "layers", the physical and complexity tradeoffs that make certain performance possible and a survey the various protocols for different ranges, complexity of the device and an explanation of what constraints limit the communication rates. With these fundamentals then she explored with the participants what technology fits what applications and why and dove deep on Lightweight M2M focusing on the LTE and 5G roadmap for IoT. She used the Power Grid as an application area for the module. 
Module 4 discussed another IoT fundamental topic – Data Management. Dr. Mohamed Sarwat, Assistant Professor of Computer Science and Director of the Data Systems (DataSys) lab at ASU, facilitated this module by exploring all things IoT Data:  Properties, Models, Collection, Storage and Indexing. Also, discussed the process of Querying IoT Data and what the Pros and Cons are of the current State-of-the-art IoT Data Systems. Dr. Sarwat used the Smart City application as the theme for this module. 
Dr. Ming Zhao, is an Associate Professor at Arizona State University (ASU) School of Computing, Informatics, and Decision Systems Engineering (CIDSE), where he directs the research laboratory for Virtualized Infrastructures, Systems, and Applications (VISA). Dr. Zhao oversaw Module 5 on Cloud and Edge Computing Technologies and explored with participants the concepts, architecture, history and trends in computing and its transition to Edge computing. He covered the edge systems architecture (IoT, edge, and cloud), models of edge services (containers and functions) and technologies for developing edge applications (AWS IoT and Greengrass, Azure IoT Hub and digital twins). Dr. Zhao chose the Smart City application area for this module. 
Lyle Tanner is a Business Solutions Architect at Cisco, specializing in Industrial IoT. Lyle facilitated Module 6 on Security and Privacy Issues in IoT end dove deep into Cybersecurity architecture principles and fundamentals, the differences among IT, OT, and IoT/IIoT and their relevance to Cybersecurity, and Cybersecurity implications and real-world examples of IoT/IIoT security failures. He also presented and facilitated the discussion on IoT/IIoT specific Cybersecurity architecture & regulatory compliance, how to reduce the attack surface and strategies for incident response. Mr. Tanner selected Industry 4.0 as the application area to illustrate the topics in this module in line with his extensive experience in this area. 
Participant satisfaction from the pilot program depicted a needed program in the ever-changing landscape. One graduate had this to say about their experience:
It was a great program where I started thinking about things from a different perspective, which is helpful in becoming more rounded. It's always good to get out of your box and I loved the hands-on project." 
With the invaluable feedback received from participants, GOEE will be developing an open enrollment, fully online, self-paced offering. Per the feedback received from instructors, participants and T-Mobile leadership, this program has the potential of becoming the industry standard to train IoT sales executives at T-Mobile and other companies, and would be filling an important gap in the industry.
---
Co-written by Dario Solis, Jose Quiroga and Meghan Gibson, ASU.