Student Testimonial: Applicable Coursework and Career Advancement
Matthew Krull is always looking for additional tools to add to his tool belt. With ASU's Lean Green Belt Course, he got more than he had anticipated.
Matthew Krull is an accomplished professional with nearly two decades of supply chain operations experience. His work has spanned various industries: from retail, industrial and e-commerce to government and the medical community.
But working in Louisville, Kentucky and wanting to expand his knowledge and skill set, he looked outside of the South to get Lean.
What is "Lean?"
Lean is the elimination of waste. Lean springs from many inventors who identified waste as a major deterrent to achieving operational excellence. Toyota is one of the modern companies that adopted lean principles. On a global scale, James Womack has advanced the ideas of lean production and lean thinking based on Toyota's business system.
What is unique about Lean principles is that it's built around employee empowerment - from the plant floor, through the business enterprise, to senior management. Employees are constantly asked to think about new ways to improve workflow that, in turn, drives innovative thinking and better ways to serve customers. In the past decade, organizations across the nation have moved to incorporate Lean principles to create more efficiency and bring the philosophy of continuous improvement into their operations.
"If you look at the job market today, Lean Belt is kind of a requirement that people are looking for beyond a bachelor's degree," says Krull. "I wanted to add that to my tool belt."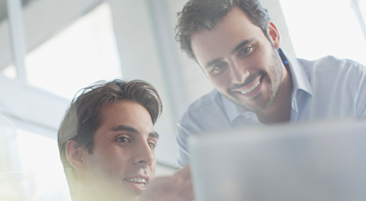 Krull considered ASU, Georgia Tech and a few other universities, but, in the end, it came down to value for cost, says Krull. "I wanted a great, reputable, accredited, national University and ASU came out on top for value."
As did the program itself.
"The Lean project I successfully completed for my company will save our customers over $280,000 in spending per year and allow our company to save over $33,000 per year in reverse logistics labor, which is very significant," says Krull who is the warehouse manager for Owens & Minor Medical Distribution. "The learning experience has already paid for itself by giving me the tools and knowledge to help identify lean opportunities; these are skills I will continue to use throughout my supply chain career."
For Krull, who earned his bachelor's degree in business administration, earning the certification was also about investing in his future.
"I was able to apply Lean practices to my current position as well as prepare myself for future positions," says Krull. "I've actually had two calls recently because companies noticed I had the certification. It definitely can have a positive impact on your career. I did it because I wanted another skill and am always looking for ways to make myself more attractive to employers."
ASU's program – delivered through the Ira A. Fulton School of Engineering - enables professionals to pursue a professional non-credit certification. The program is aimed at directors, managers, engineers, supervisors and others who are involved in continuous improvement. There is no prerequisite background required to start the Lean Green Belt program. And aimed at being convenient for working professionals, the nine-week program is delivered online with video streamed lectures available 24 hours a day, 7 days a week.
"The professors were very knowledgeable and provided an excellent curriculum that accelerated the learning process," says Krull. "They really showed how you could apply what we were learning to a normal working environment, using examples that were very applicable to real world scenarios."
Asking whom the program would be good for, Krull says, "I'd recommend the program to anyone."