Click the image below to see highlights from the 2019 Program in Lao PDR

2019 Placement Program
The theme for the 2019 Mekong - U.S. Partnership Young Scientist Program was Public Health & Bioinformatics. The 4-week program was hosted by the Faculty of Engineering at the National University of Laos. Over the course of one month, the program delivered skill-building workshops, challenging participants to apply their interdisciplinary skills toward innovative research initiatives and new technology development. Check out our visual story to get a different perspective from the 2019 placement program.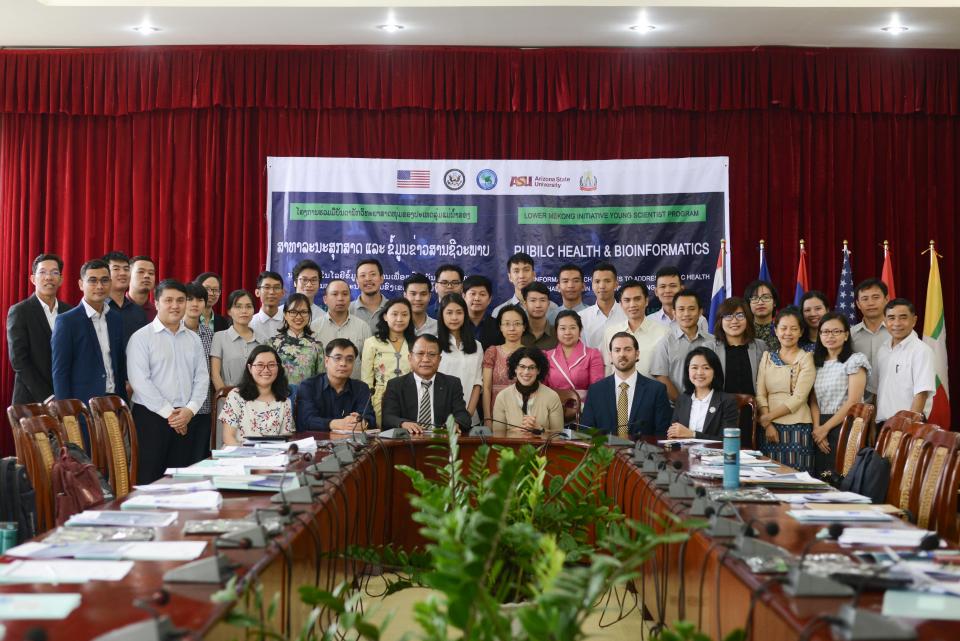 The program was kicked off on July 1st, 2020 by U.S Ambassador Rena Bitter, Assoc. Prof. Khamphoui Southisombath, Dean of the Faculty of Engineering NUOL, and Assoc. Prof. Mayfong Mayxay Vice President of the University of Health Sciences. The focus of week 1 was to introduce participants to the main public health issues regarding vector-borne diseases and existing regional programs to combat these issues.
Guest speakers included
Assoc. Prof. Mayfong Mayxay, M.D. Ph.D. Vice President of the University of Health Sciences
Mr. Pongsakorn Sadakorn, Public Health Technical Officer, Bureau of Vector Borne Diseases, Department of Disease Control, Ministry of Public Health, Thailand
Dr. Naiyana Sahavechaphan, Senior Researcher, National Electronic and Computer Technology Center (NECTEC), National Science Technology and Development Agency (NSTDA), Ministry of Higher Education, Science, Research and Innovation
Dr. Rattanaxay Phetsouvanh M.D., Ph.D Director General of the Department of Communicable Disease Control, Ministry of Health, Vientiane, Lao PDR. 
The week concluded with a city tour of Vientiane, visiting places such as: Patuxay monument, Wat Sisaket temple, Pha That Luang stupa and Buddah Park.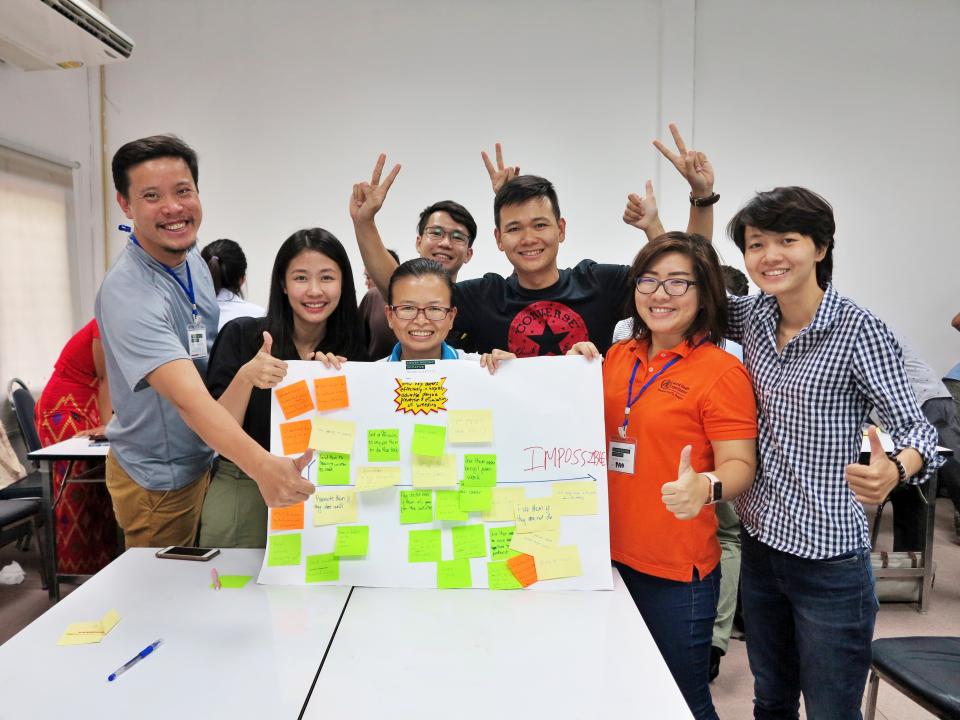 Week two was dedicated to a 4-day Design Thinking workshop led by experts from the School of Global Studies from Thammasat University in Thailand. This workshop introduced participants to this human-centered methodology, an iterative process that seeks to understand the user, challenge assumptions, and redefine problems in an attempt to identify alternative strategies and solutions that might not be instantly apparent.
By the end of week two, the 33 participants grouped into six teams around projects using models, computational methods, and information technologies to address public health challenges in the Lower Mekong Region caused by vector-borne diseases.
The week concluded with a visit to the Pasteur Institute of Laos to learn about their work on Medical Entomology and Biology of Disease Vectors, as well as a field trip to the Lao province of Savannakhet to visit the provincial health office and participate in a dengue fever survey and mosquito and larvae collection activities in Tonhen Village.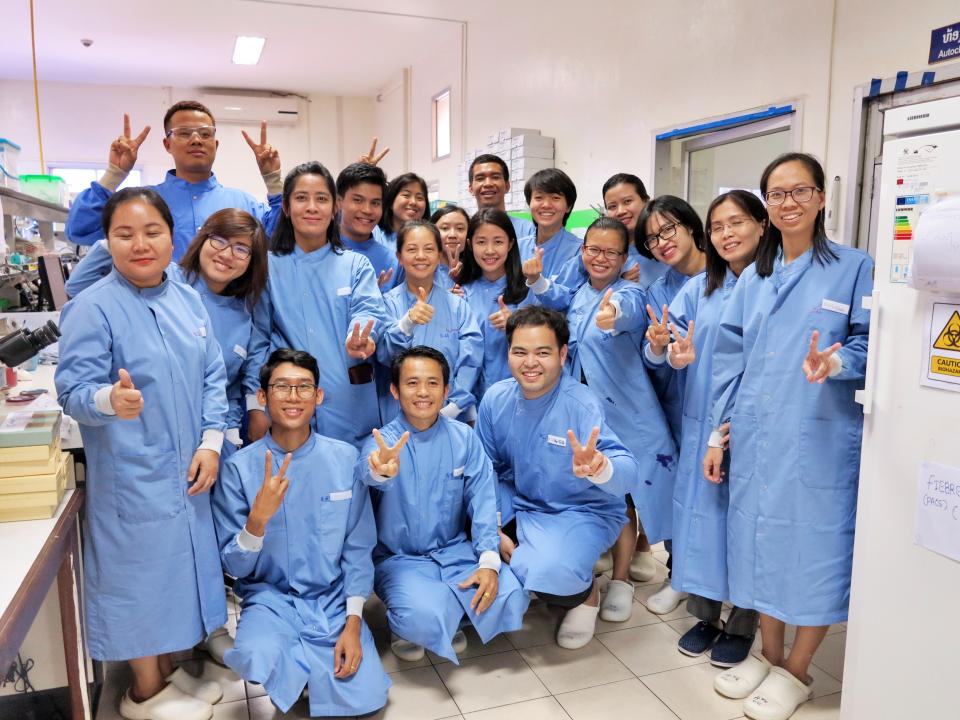 Week three was spent on building 21st century professional skills, such as: running effective meetings, interpersonal communications, team optimization, presentation skills, critical thinking and conflict resolution.
This week also included a presentation at the American Center by Vannida Douangboupha, one of the Lao participants, who gave a Ted Talk-style presentation on Dengue and useful techniques to control mosquito populations at the household level.
This week also included a field trip to the Mahosot Hospital to visit the microbiology and virology labs to learn about laboratory methods to identify dengue and other infectious diseases through techniques such as enzyme-linked immunosorbent assay (ELISA) and polymerase chain reaction (PCR).
The week ended with a 2-day cultural tour to Vang Vieng where the participants had fun hiking, exploring caves, zip-lining and kayaking.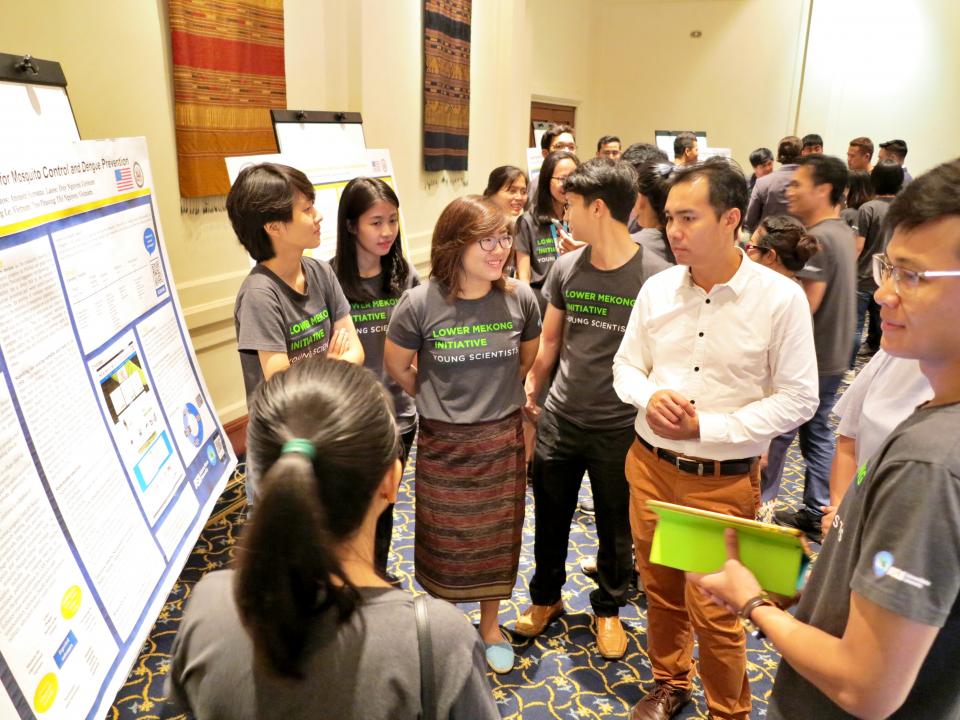 During week 4 the project teams worked on their applied projects and their posters for the final presentations. David Jones from the Office of International Health and Biodefense at the Bureau of Oceans and International Environmental and Scientific Affairs attended the last week of the program to mentor teams. 
The week concluded with a poster session and certificate award ceremony on July 26, 2019.